Purple varnish clams, aka mahogany clams or Nuttalia obscurata, are yet another transplant from Asia. About two decades ago they were introduced to the West Coast from ship's ballast waters.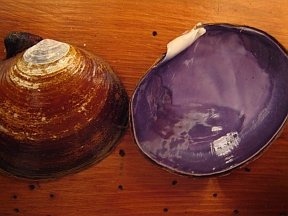 Varnish clams are bimodal benthic feeders, which is a fancy way of saying they can filter food out of the sand and eat whenever they please. Other clams have to wait until the tide is in to feed.
It took us a while to figure out these clams… they're certainly a different kind of critter. For one thing, they flash open when you cook them… so while it might take a manila 6 to 8 minutes to open up in a steamer, a varnish clam will open immediately. Depending on how you like your clams cooked, that's either a good thing or a bad thing…. they certainly aren't fully cooked when they open. Also: it's taken us quite a while to figure out how to "purge" varnish clams. Because they're bimodal feeders, they often have more sand in them than regular steamers, so we have to leave them in our tanks to "spit" an extra long time. Finally, texture-wise these clams are more like a mussel than a steamer. We've often thought that steamer clams and mussels are misnamed… swapped at birth perhaps… because mussels are soft and steamer clams are muscle-y. But varnish clams have a softer texture than our regular steamers, so they're more on the mussel contingent of muscle.
Lastly: expect hitchhikers. For some reason, varnish clams are often carrying little pea crab. Once we even found a clam with a crab AND a baby mussel inside…. kind of like an accidental shellfish turducken. Clarabsel?
Varnish clams have truly spectacular shells, so we've also started making earrings out of them:
Maybe we would have sold more of these earrings if the photo had been in focus? Hard to tell.
Last thing about varnish clams: one time, while out on the flats digging clams for earring production, a family approached and asked what we were doing. We explained that the clams were bright purple inside and very beautiful and that we were going to use them for jewelry. To prove our point, we stepped on a clam, breaking it into pieces. But surprise! The clam was bright white inside. It was the first albino varnish clam we'd ever found, and we'd smashed it.
{ 4 comments }