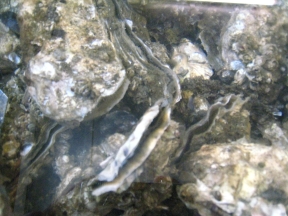 The other day a customer in the retail store informed us that we needed to restock our display tanks because all the oysters in it were dead. But the oysters weren't dead, they were just eating. All the oysters had opened slightly (as in the photo above) in order to filter plankton out of the water.
Oysters are passive feeders… they rely on water currents to bring them their dinner. This is one reason why the growing location of an oyster can influence its taste, appearance, and texture: oysters grown on high-current beaches have more food to eat than oysters grown in still waters. (They're also more likely to be blown off the beach during a storm, but that's a story for another day).
All this talk about oysters eating brings to mind Lewis Carroll's "The Walrus and the Carpenter," from Through the Looking-Glass and What Alice Found There (1872).
"O Oysters, come and walk with us!"
The Walrus did beseech.
"A pleasant walk, a pleasant talk,
Along the briny beach:
We cannot do with more than four,
To give a hand to each."

The eldest Oyster looked at him,
But never a word he said:
The eldest Oyster winked his eye,
And shook his heavy head–
Meaning to say he did not choose
To leave the oyster-bed.
But four young Oysters hurried up,
All eager for the treat:
Their coats were brushed, their faces washed,
Their shoes were clean and neat–
And this was odd, because, you know,
They hadn't any feet.

Four other Oysters followed them,
And yet another four;
And thick and fast they came at last,
And more, and more, and more–
All hopping through the frothy waves,
And scrambling to the shore.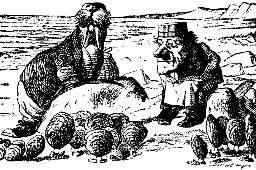 The Walrus and the Carpenter
Walked on a mile or so,
And then they rested on a rock
Conveniently low:
And all the little Oysters stood
And waited in a row.

"The time has come," the Walrus said,
"To talk of many things:
Of shoes–and ships–and sealing-wax–
Of cabbages–and kings–
And why the sea is boiling hot–
And whether pigs have wings."

"But wait a bit," the Oysters cried,
"Before we have our chat;
For some of us are out of breath,
And all of us are fat!"
"No hurry!" said the Carpenter.
They thanked him much for that.

"A loaf of bread," the Walrus said,
"Is what we chiefly need:
Pepper and vinegar besides
Are very good indeed–
Now if you're ready, Oysters dear,
We can begin to feed."
Read more here.