Well, it's that time of year again. Summertime. And the oysters are doing what they do: getting spawny. And you can no longer eat them raw because of naturally-occurring salt water bacteria. We've all been here before.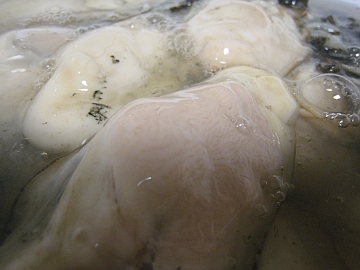 If you look really closely at the oyster in the foreground you'll see vein-like patterns in the belly meat. Yes, this isn't appetizing, and we probably shouldn't show you. But it's interesting and educational. This is what oysters look like just before they get really spawny. This oyster wasn't milky, just soft.
And see the black specks on the oyster in the background? Oysters are strange creatures and they sometimes have black stuff on them. It happens all the time. But last month we came across this story about a man down south who saw black stuff on his oyster and claimed it was oil. Oil and oysters don't mix very well, but we're thinking his story was much ado about nothing.