Well, we're sorry to say that our oyster-growing region (which includes several very productive beaches in addition to our farm) has been shut down until October.
Vibrio is a naturally-occurring salt water bacteria that proliferates when the Canal gets warm. If you eat an oyster raw, and if that oyster has just taken a big drink of vibrio-rich salt water, you might get sick to your stomach. To discourage people from eating oysters raw during vibrio season, we always take a few voluntary precautions: we stop selling extra smalls and Blue Pools (the sizes most likely to be served on the half shell) and plaster our retail store with signs advising customers to cook all shellfish. State-imposed vibrio shutdowns happen almost annually, but we thought we were in the clear this year…. the summer was relatively cool, and it's almost over. Alas. It's unfortunate for the people who got ill, and for the people up and down the Canal who will be (temporarily) out of work, and for the customers who came into our store looking for oysters to put on their Labor Day barbecues. Sorry!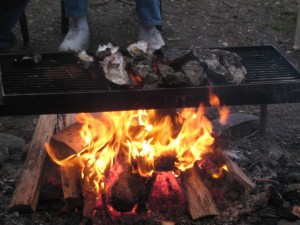 We are hoping to bring some shell oysters into our retail store from farms outside the growing area. In the meantime, we are still selling oysters in jars, because we can label each jar with the words "for cooking only," and clams, which are almost always cooked anyways.
On the bright side: we've spent the past couple of years doing extensive testing with the State Department of Health and Pacific Shellfish Institute, trying to figure out how to get oysters to purge the Vibrio bacteria, and the research looks promising.