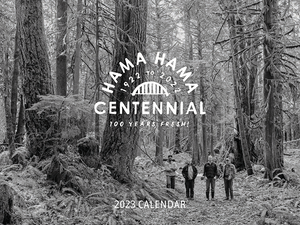 Hama Hama Oyster Company
2023 Centennial Calendar
To help mark our Centennial, local photographer Garrett Grove recreated famed PNW photographer Darius Kinsey's 20th century photos of Hama Hama.
Garrett visited several times over the course of the last year, taking portraits of the landscape and our crew. In some cases, he was able to exactly recreate the location Kinsey photographed a century ago. The photos are a timestamp, an art project, and a gift to our future selves.
This 2023 calendar showcases Garrett's black and white photos alongside Kinsey's, with explanations and context. We sneaked a few relevant oyster dates into the mix, so that you can keep tabs on what we'll be celebrating in the coming year.
Calendars begin shipping on Monday 1/9. They can be purchased separately, or added to a box of shellfish.
Copyright to the Darius Kinsey photographs used in our calendar is owned by the Whatcom Museum in Bellingham - many thanks to Jeff Jewell for helping us in our research!
---
Share this Product
---
More from this collection