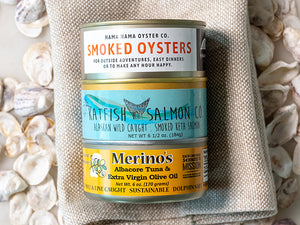 from our pantry
Tinned Fish Three Pack
A salmon, a tuna, and an oyster walk into a bar....
Oh wait, sorry, you've probably heard that one.
All joking aside: This tinned fish sampler pack represents three of our favorite West Coast fishes. Grab it to mix up your charcuterie boards, stock up your pantry for the next impromptu picnic, or gift it to the tinned fish fan in your life.
Each pack contains: 
6 oz can of Katfish Salmon Co. Smoked Keta Salmon
6 oz can of Merino's Albacore Tuna
5 oz can of our very own Smoked Oysters 
Read more to learn about these goodies:
Kat Murphy, owner of Katfish Salmon Co, walks the walk when it comes to sustainability and deliciousness. She operates the F/V Grace, a 38ft wooden power troller built in Seattle in 1946, out of Southeast Alaska. In her off season, she cruises around the northern Olympic Peninsula. Her fish is hook and line caught, meaning each fish is caught by hand one-at-a-time, cleaned, and iced onboard for maximum quality.
If you're looking to get more salmon in your life and want to ensure you're supporting a small, sustainable business, but don't have any freezer space: this tinned smoked keta salmon is the fish for you. It's perfect for salmon patties, chowders, or salad.

Ingredients: keta salmon, salt, brown sugar, white sugar, alder smoke. 
Merino's Seafood Market has been a staple of the Westport, WA community for years. Their retail market is a must stop when you're in the area. However, their specialty canned seafood will open your eyes to what you've been missing in a can of tuna. Processed "Fin to Tin" in house and by hand, this line caught, sustainable, and dolphin safe tuna can't get much better for the world....or for you mouth. 

We're featuring their Albacore Tuna packing in Extra Virgin Olive Oil. Rich and flavorful, it's ready to top a salad, fill out a melt, or pair with some crackers after a hike.

Ingredients: Wild albacore tuna, olive oil, sea salt 
Smoked Oysters - Our oysters are hot smoked with real wood smoke before being canned - this gives them more flavor and more chew than you usually find in a can of smoked oysters. They're great on their own, make perfect camp snacks, and, when blended into a sauce or dressing, can take your salad or pasta to the next level.

Ingredients: Smoked oysters (oysters, salt, brown sugar, mixed hardwood smoke), olive oil
WARNING: Consuming this product can expose you to chemicals, including cadmium and lead, known to the State of California to cause cancer and birth defects or other reproductive harm. For more information go to www.P65warnings.ca.gov/food
Q: Why am I seeing this warning?
A: California's Proposition 65 (P65) takes a very cautious approach to food labeling. This food is harvested and processed in the United States, by us or by other local companies, from open and approved waters. Because there's always the chance that wild food from the ocean picks up heavy metals, including cadmium and lead, we provide this warning to ensure compliance with P65 labeling laws.
---
Share this Product
---
More from this collection