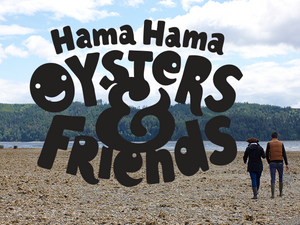 August to January Monthly CSA Box
2023 Fall Oysters & Friends Subscription
It's Oysters and Friends signup time!

This is a monthly subscription service - kinda like a CSA - that runs for six months at time. Each month, we'll ship you a box containing delicious food, along with information about where it came from and how to cook it. Boxes will generally have 1-3 dozen oysters (either for grilling, frying, eating raw, or all of the above) and 2-3 lbs of clams or mussels, plus three "friends," which is a general term we're using for fun items we source from our beaches, farms, fields, colleagues, and production kitchen. In peak summer (July and August) the boxes will contain meal kits for summer parties, and may or may not contain oysters.

The 2023 Fall Subscription runs from August through January - moving from peak summer on the Olympic Peninsula and into the heart of winter. Join us as we mark the return of the rainy season with wild mushrooms, seafood boils, hard-to-find oyster varieties, roasted oyster recipes, and locally sourced caviar.

Availability is very limited so that we can source some really special products!

Once you purchase this subscription, all subsequent payments will be automatically charged on the first of each month. Boxes will ship either the 2nd or the 3rd Wednesday of the month, depending on which week you choose.

A few notes:
December's boxes will all ship 12/6
The August box won't contain any oysters - just friends!
Dates aren't flexible, because having predictable ship dates helps us source products we can't otherwise sell online. It's easy to skip a month if you're traveling or otherwise unable to receive a box...  just email to let us know before the 1st of the month to avoid being charged.

WARNING: Consuming this product can expose you to chemicals including cadmium, which are known to the State of California to cause cancer and birth defects or other reproductive harm. For more information go to www.P65warnings.ca.gov/food
Q: Why am I seeing this warning?
A: We give this warning to be sure we comply with the requirements of California's Prop 65. Read more about cadmium here.
---
Share this Product