Yesterday about 40 students from the Culinary Institute of America stopped by the farm to learn about sustainable seafood. They were at the tail end of a month long tour around Washington and Oregon, where they toured various produce farms, wineries, and restaurants to learn about Pacific Northwest Cuisine. The students spent the morning learning about Long Live the Kings' wild salmon recovery program on the Hama Hama, then, before touring the oyster farm, they were treated to a delicious lunch prepared  and served on the beach by Chef Christine Keff, winner of the James Beard award and owner of Seattle's Flying Fish restaurant.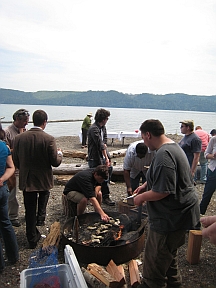 During cocktail hour, the students ate oysters off the barbecue and on the half-shell.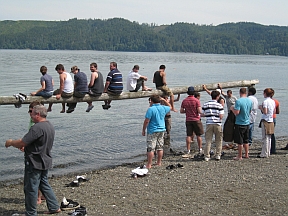 Then they went to play in the Canal.
Adam talking about sustainability.
Chef Chris preparing steamed clams and mussels.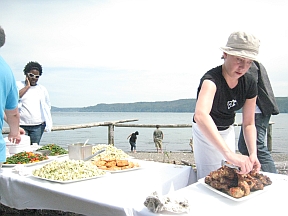 The spread.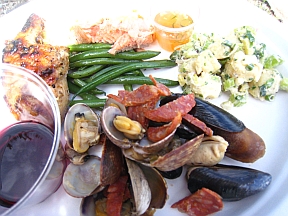 The plate: organic chicken from California, green beans, Copper River salmon, potato salad, local mussels, and Hama Hama clams steamed with green onion and chorizo sausage.