So Adam and Oyster Fan took a trip last week to St Paul to attend the first ever Meritage Oyster Fest. We left a little early and stayed a little late, because it turned out that we had lots of fun things to do in Saint Paul. Before turning our attention to oysters, we met up with some relatives and took a boat ride on Lake Minnetonka, where our Great-Grandfather used to live, snuck in a visit with our awesome Great Aunt Rosanna, who just turned 97 and has a better memory than either of us, and did a little genealogy.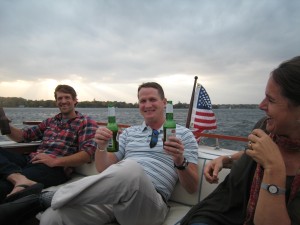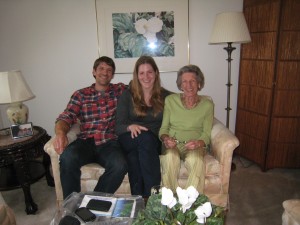 Our company actually began in Saint Paul, when resident Daniel Miller Robbins, our great-great-, purchased the Hama Hama Farm. So we looked up some of our ancestral houses, an admittedly humbling experience. Several were quite grand, and nowadays one of us (cough) lives in a house with wheels. But then again, contemporary ancestors on another side of our family were homeless pig farmers in England, so compared to that we're doing quite well. Here's Adam falling off the turnip cart in front of a great-great-great- house: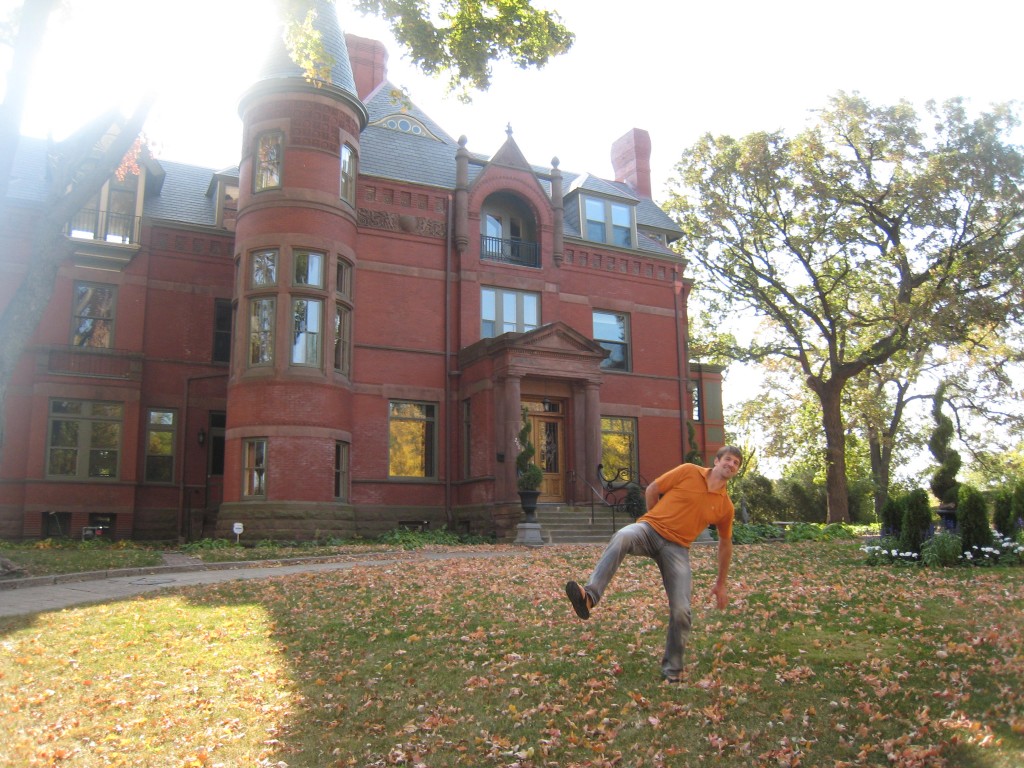 Naturally, once we remembered how deep our Saint Paul roots run, we quickly developed an extremely slick marketing gimmick: Hama Hama should be Minnesota's official oyster company. We pitched this to the Mayor of Saint Paul when he came by our booth at the festival, so we expect a parade in our honor any day now. And we think this will work out well for us, because Midwesterners can eat a surprising quantity of oysters. Russell Klein, the James Beard-nominated chef at the Meritage, planned on serving 24 oysters per person, and while we were sure there would be leftovers, the crowd didn't let him down, consuming nearly all the oysters by the end of the night. We were one of four oyster farms at the event, the others being Island Creek from Duxbury Massachusetts, Penn Cove from Washington State, and Blue Island Shellfish from Long Island. We had a blast hanging out with the other farmers. And luckily for all of us, the super competent and very friendly staff at the Meritage worked their fannies off to help us the shuck the 16,000-odd oysters we collectively went through.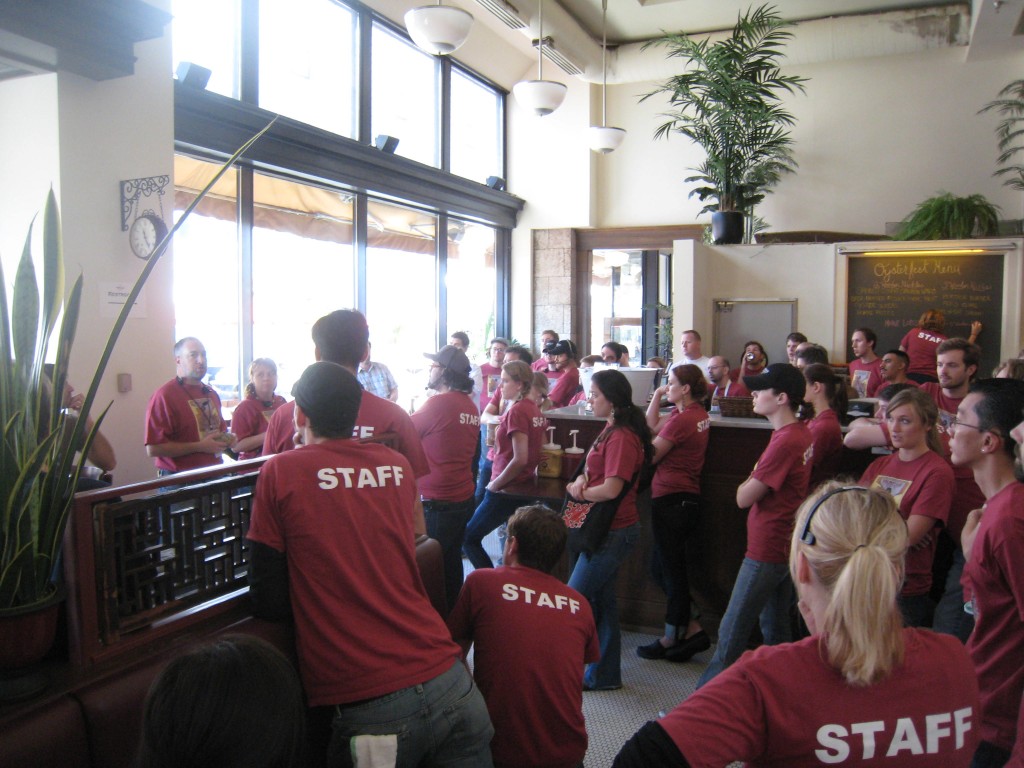 The whole experience was really well organized and very oyster-centric: five oyster species were present (Pacific, Virginica, Kumomoto, Olympia, and European Flat) in at least 13 different appellations, and the festival featured oyster beer, an oyster shucking contest, and a series of "oyster schools" where attendees learned about farming techniques, merroir, wine pairing, and identification. Here's a picture of Adam and Mark, one of our new Saint Paul friends, at our booth.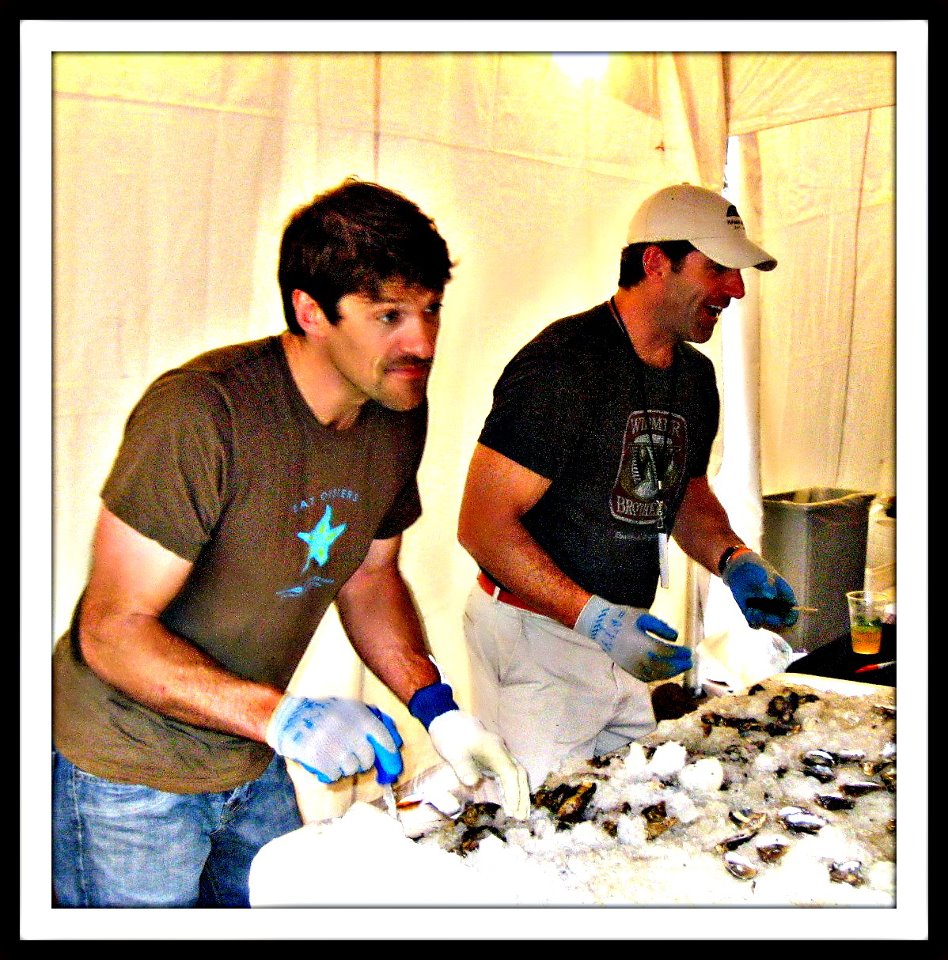 Lastly, it was fun to reconnect with Russell and Desta, the team behind the Meritage, who visited our farm last spring. They're amazingly gracious and their restaurant is superb. Thanks guys!