Last week we received a certified letter from the Highway Department telling us that our tree cookie sign is illegal. Even though it's located on the same property as our store, it's too far from the store to satisfy the scenic byway highway requirements. To that we said boo. But after brainstorming several creative responses to the situation we decided the best bet was to just remove the offensive object. The sign, cut from a 400 year old Douglas fir tree, had been up since 2008. And, truth be told: the wood wasn't weathering very well. In its illegal and illicit location the sign had a lot of southern sun exposure, and now, two years later, it's starting to crack up. Read about its construction here.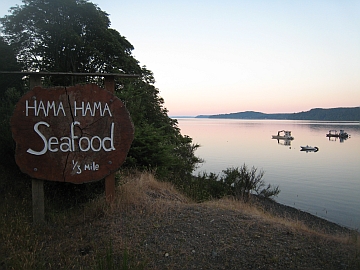 Terrible, just hideous.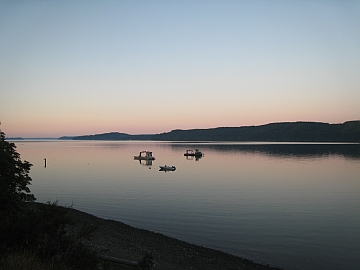 In other news: our old barge is up and running. You can see it in the photo above, enjoying life back out on the water. So the earlier post ("Last Run of the HH Battleax") was a little misleading. The Battleax lives!