First, you need to know a little bit about oyster anatomy.
Oysters have a top, flat side and a bottom, cupped side.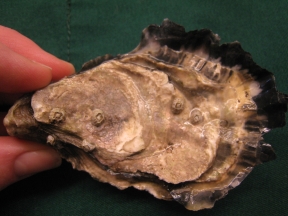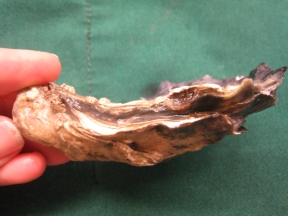 An oyster has a narrow, hinged end and a wide, fluted end. In the photo below, the knife is stuck into the hinged end. This is pretty obvious.
The hinged end is the only place where the top and bottom shell are connected together. Otherwise, the two shells are held together by the oyster itself. Your goal is to sever the oyster muscle from the shells. This is easier to do if you know where to find the muscle. Here's a hint: When you hold the oyster with the cupped side down and the hinged end pointing towards you, the muscle is always on the right side of the oyster.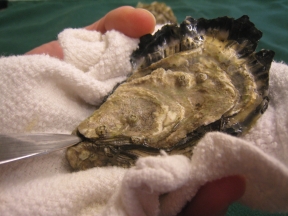 To shuck an oyster, hold it in a towel (as shown below) or in a gloved hand, with the hinged end pointed towards you. It's safest to set the oyster on a table. And since chances are pretty good that you aren't a competitive oyster shucker, know that speed doesn't matter. Your dinner guests can wait.  Also, be warned that alcohol + novice oyster shucker = bandaid. 1. Insert the knife into the oyster hinge, and gently work the knife back and forth until the hinge pops open. This takes finesse, not brute strength, but this is the dangerous part because people always try to out muscle the oyster. Be sure that you always point the knife away from your fingers/wrist/etc.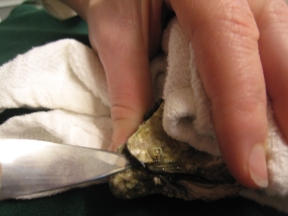 2. Next, wipe the blade clean on a towel, and slide the knife inside the oyster along the top shell to sever the top muscle.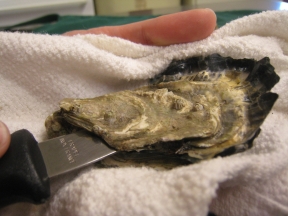 3. Then remove the top shell, and sever the bottom muscle.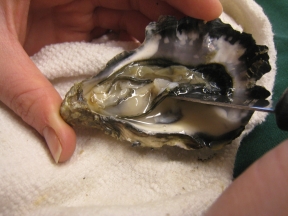 4. Inspect the oyster for bits of shell. And, if you're worried about presentation, flip the oyster over in its shell before serving. This also helps you verify that the oyster is truly free from its shell.