Saturday was cloudy and rainy... a good day for vampires but not for the rest of us. And only a few hardy souls braved the drizzle to attend the first ever Open Farm Day. Being optimists, we consider it a smashing success. And it was really fun, with the rain and mist giving the day a genuine Northwest feeling.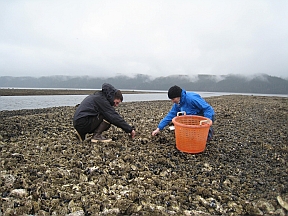 Allison and David searching for the perfect dozen.
Kate and Rick picked mussels and oysters for a big family dinner. The NEXT open farm day is Saturday, April 25th from 10:30 am to 1 pm. This time we're going to set up a barbecue on the beach and cook up a few oysters. Let us know if you can make it! Email orders@hamahamastore.com or call 888-877-5844.