The other morning two of the graybeards were driving to work in the woods above the oyster farm when they noticed a dead deer lying in the ditch beside the road. The deer's body was still warm, and it had two deep puncture wounds in either side of its neck that were bleeding profusely. And since vampires don't actually live on the Olympic Peninsula, their best guess was that it was a cougar kill. So they called Jim, who set a motion-activated camera up on the deer carcass. Here are some of his photos:
Cougar with carcass, 5:11 pm. The best argument against a nighttime jog we've ever heard.
We don't know a whole lot about cougars, but doesn't this one look a little skinny? 5:15 pm.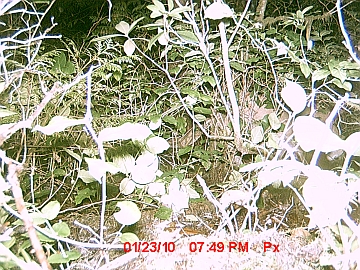 Where's Waldo? Hopefully not in the photo with this wily cougar. 7:49 pm.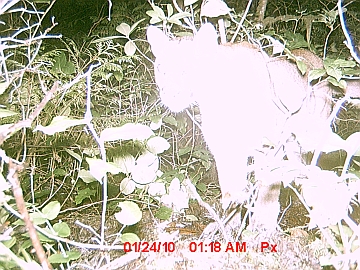 Curious cat, 1:18 AM the next morning.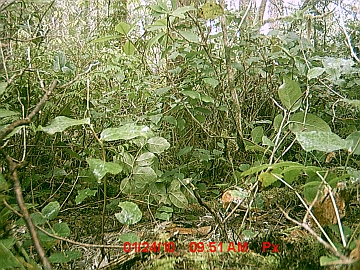 Jim's approach prompted the camera to take this photo of the scene in daylight the morning of the 24th.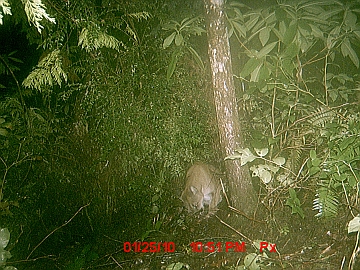 About 11 pm on the 25th. The cougar had dragged the carcass to a new location.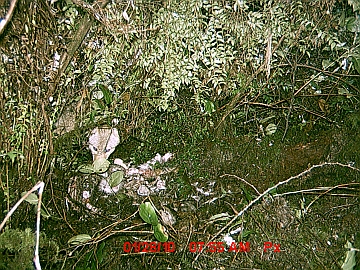 When the cat's away, the coyotes come out to play.