A few members of team Hama Hama traveled east last week to attend a wedding, eat lots of lobster, and generally enjoy life on the Maine coast. Naturally, any visit to any coastline would be incomplete without checking out the local oyster scene, so our trip included several stops of oyster interest. First, we had dinner at the fantastic Island Creek Oyster Bar, in Boston, which was packed on a weeknight with happy people celebrating with delicious seafood. Our favorite selections from the raw bar were the Island Creeks (Duxbury, MA) and Moon Shoals (Barnstable, ME), and we highly recommend the lobster roe noodles and fried oyster sliders. If you find yourself in Boston, go to the Island Creek Oyster Bar, but get a reservation first. Once up in Maine, we stopped by Glidden Point Sea Farms in Edgecomb, where we picked up some belons and chatted a bit with Barb, the owner, who is awesome, tough, and a real straight shooter. She was just headed out to scuba dive for oysters.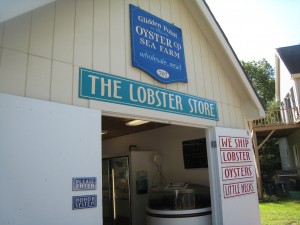 A little ways past the Glidden Point store we came to the Damariscotta River, where two giant shell middens attest to the fact that this is oyster heaven on earth. Much of the 2,000 year old Whaleback Midden was mined for chicken feed in the early part of the 20th century, but the remaining pile has recently been turned into an interpretive State Park.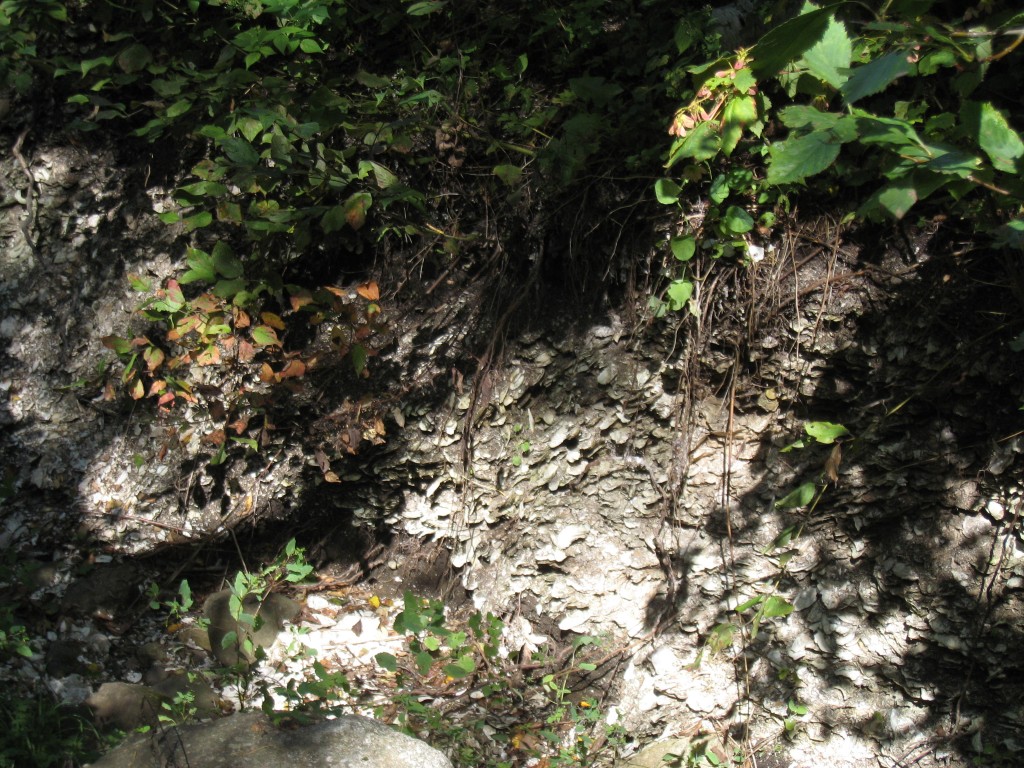 A gulley in the Whaleback. Middens are basically prehistoric trash dumps, where the convenient alkalinity of oyster shells helps preserve things like bones and wooden tools from decay. They demonstrate that humans have always over-harvested wild shellfish: generally shells at the bottom of middens are bigger than the more recently deposited shells, proof that people ate the biggest oysters faster than they could be replenished. (We got a little cheeky about this prehistoric preference for huge oysters in our description of our own shucked mediums).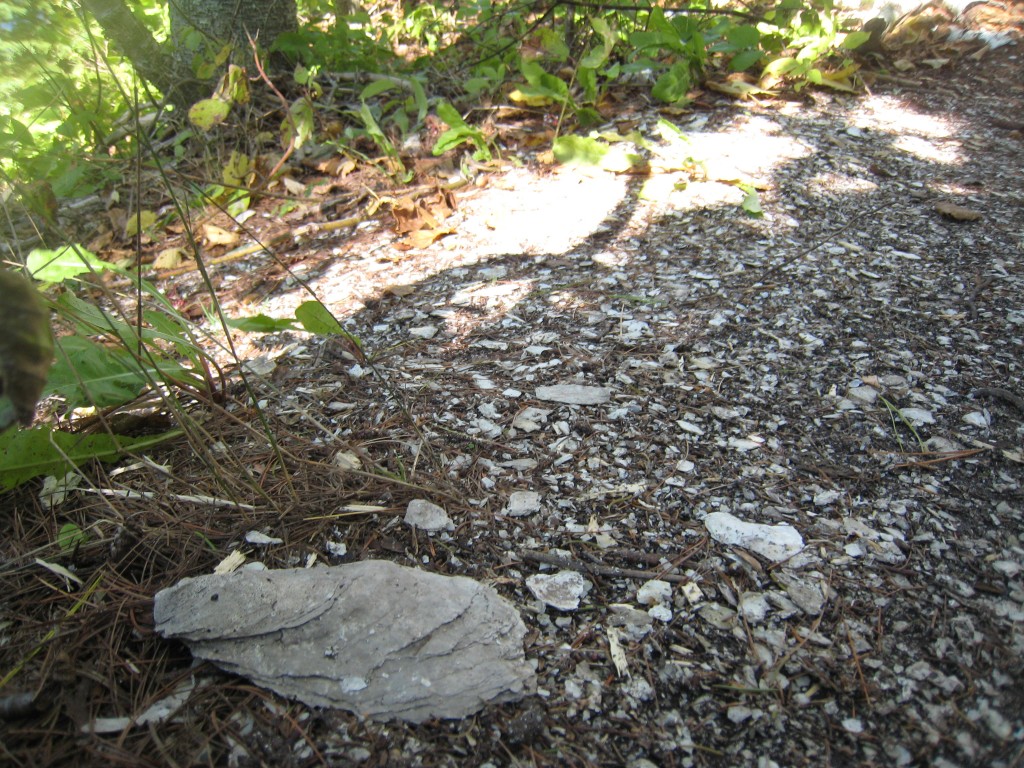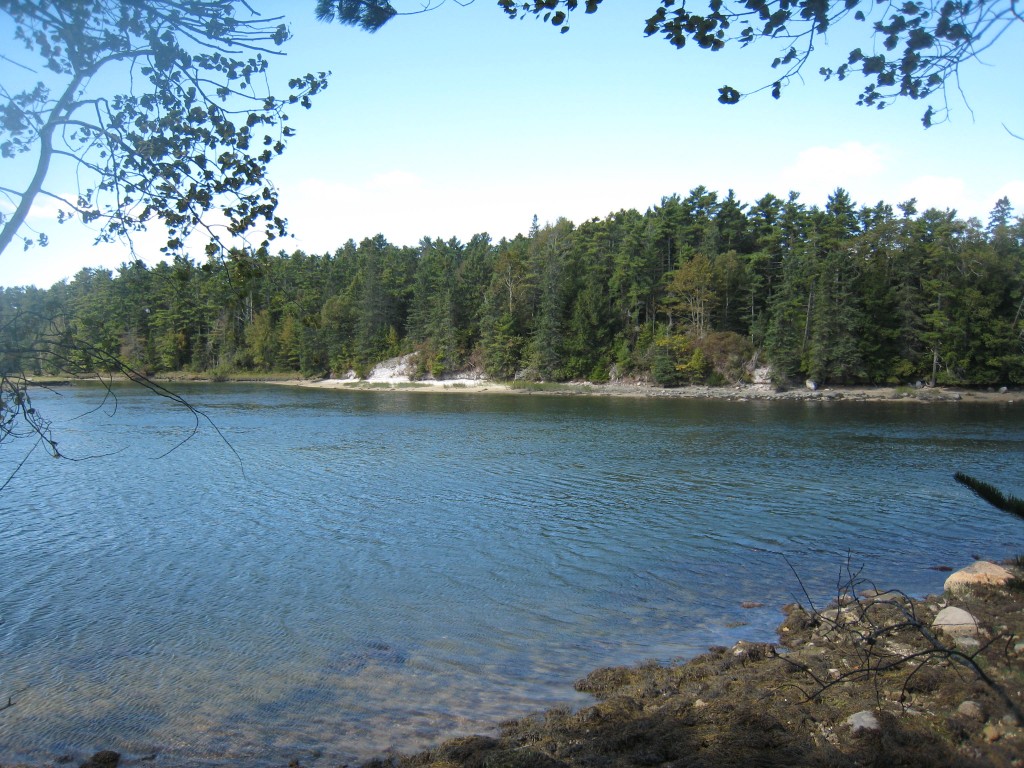 Looking across the Daramiscotta to the Glidden midden, which is still intact, and located on private property. Many middens up and down the Atlantic coast were mined for construction material and land fill, as well as chicken feed. Originally the Whaleback Midden was 30 feet deep, more than 1650 feet long, and some 1400 feet wide.
 After checking out the Whaleback, we went back to the wedding site, where things got really shellfishy: for lunch we had a huge lobster bake, complete with corn, potatoes, and Maine steamers, and for dinner we helped shuck a couple hundred Glidden Point virginicas. The virginicas were fairly tough to shuck, but the shells aren't nearly as brittle as our pacifics, so it was easier to keep grit out of the oyster meat. Later, we fried up some Hama Hamas for the wedding party. It's always neat to see how much people at parties enjoy oysters... there's just something magical and undeniably celebratory about the little critters, even for people who work with them day after day. And we bet the people bellied up to the Daramiscotta two thousand years ago felt the same... as well as being pretty thankful for protein that didn't run away.