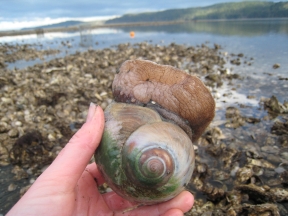 Lewis' Moon Snails (Euspira lewisii), the largest moon snails in the world, are named after Merriweather Lewis, who first saw them at the mouth of the Columbia River. Moon snails like low, sandy beaches. The big slimy appendage sticking out of the shell is exactly that: a mucous-covered foot. The snail uses the foot to glide through water, burrow in sand, or to immobilize clams as it feeds on them. Moon snails, like all snails, are gastropods.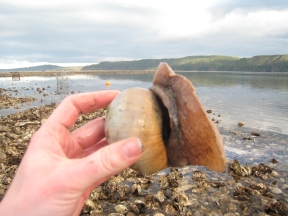 Below: the moon snail's least flattering angle.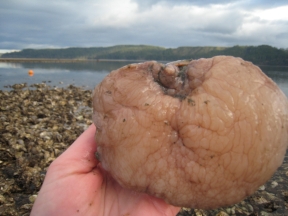 We've heard, but find it hard to believe, that moon snails are 'relished' in Norway. Hopefully the species of moon snail found in Europe is more appetizing than the Northwest's Euspira lewisii. If there's anyone out there who's ever eaten moon snail, and enjoyed it, please tell us about it.
Moon snails are a drill snail, which means that somewhere in that mucous-covered foot there's a sandpaper-like tongue that the snail uses to drill through the shells of its prey (normally clams). Before it starts drilling, the snail secretes a chemical that dissolves and softens the clam shell. Moon snails seem to really, really like butter clams, but they also eat cockles, horse clams, and even other moon snails. The main predator of the moon snail is the twenty-rayed starfish.
Discarded moon snail shells, which litter the tideflats, make great tchotchkes. Or, if you're a hermit crab, great homes.