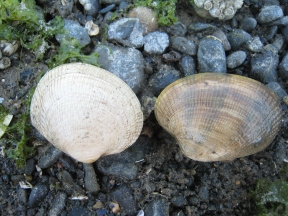 Native littleneck clam on the left, Manila steamer on the right. Manilas were introduced to Puget Sound along with the Pacific Oyster in the 1950s and, like the oyster, have since naturalized. They're now the main clam species grown and harvested commercially in the Puget Sound, as their shells are hardier and they last longer post-harvest than the native littleneck. How to tell them apart? In general, the native clams are lighter colored than Manilas, but the biggest difference is in the profile of the shell. As you can see from the photo above, the native clams are more circular in shape.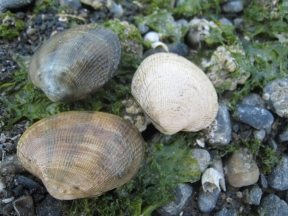 Two Manilas, one littleneck.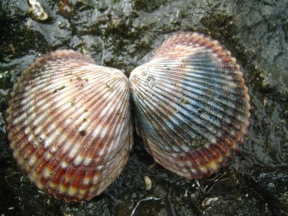 Cockle clams are extremely beautiful, and occasionally eaten, but aren't harvested commercially.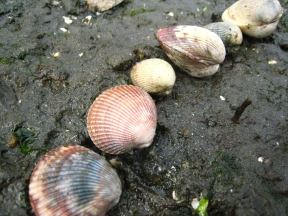 Pretty cockle shells, all in a row. These cockles are called Nuttall's cockles, or, more whimsically, heart cockles, so-called because when you look at the clam from the side the shell resembles a (somewhat squashed) heart. Go here for a picture of a live heart cockle. Heart cockles don't live as deep in the sand as most other clams do. Instead they rely on their thick, ribbed shell to protect them from predators. They also have sensory organs along their mantle (visible in the link above) that can detect approaching predators, and they use their foot to drag themselves to safety. If they're lucky, they can live up to 15 years.