Phil Lewis Day, a local guy who works wonders with wood, stopped by to show us some of his creations.  The basket below is made out of many pieces of firewood glued together and then polished smooth in a lathe... its design was inspired by Native American woven baskets.
The basket below is made out of curly maple. Occasionally big leaf maple trees have 'curly' grain... no one knows what makes the trees grow this way. Locals also call curly maple 'music wood,' because it's often used to make guitars, or 'wavy-gravy,' because it's so valuable.
Phil put the band-aid in to prevent the wood from checking.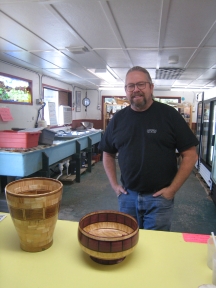 Phil is the first person to be featured in our new category: Lilliwaup Locals