Shrimp are much faster in reverse, but we didn't get it on camera.
We haven't been able to find live crab for the past couple of weeks, so we saved a few of the spot prawns in our crab aquarium, just to see how they'd do. Now we have two species of local shrimp on display: the spot prawns and coonstripe shrimp, which are much smaller but just as tasty. Here's a closeup of a coonstripe (and a fuzzy picture of Preston, the guy who sold us the shrimp):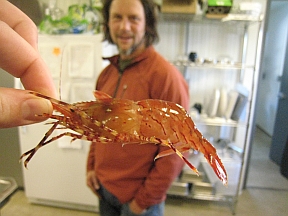 Here's a spot prawn and a coonstripe becoming acquainted in the livetank: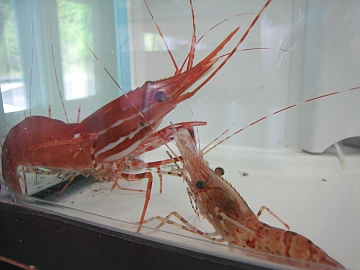 Coonstripe are also called dock shrimp. They're common in Nothern Puget Sound, the San Juans, and the Straits of Juan de Fuca. Our shrimp came from the Straights. And here's a picture of a coonstripe looking very colorful:
The above photo came from the divebums photo of the week page.