This year as part of our holiday newsletter we put together a gift-buying guide for oyster lovers. One of the items we included in the guide was a very unique oyster knife from Georgia, and that got us wondering what other handmade oyster knives might be floating around the internet. 1. For those of you who don't get our newsletter, here's the Georgia Oyster Knife. These knives are hand-forged and look like they'd last a lifetime. We're not entirely sure how to use one, but we would love to give it a try. They cost $25 and are available for purchase online.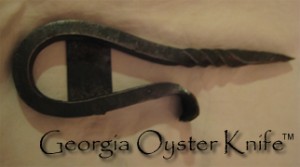 2. Rory Conner handmade oyster knife. At 55 euros, this knife is spendy, but it's beautiful, simple, and looks easy to use. Made by Irish artisan Rory Conner from cocobolo wood and stainless steel.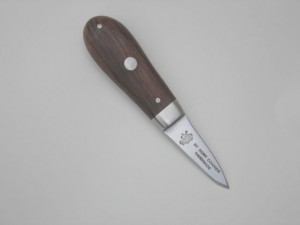 3. Or you could keep it closer to home, and buy a homemade knife from South Carolina-based Mike Moran for about $55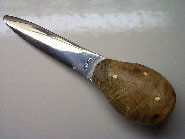 The knife above is called a Chesapeake Picker. Moran also sells an Outer Banks Cracker and a Low Country Shucker. Other types of oyster knives available in this world include Boston, Cape Cod, and New Haven. It's pretty difficult to determine what these various names mean (if anything), but as a starting point we turned to Dexter Russel, probably the biggest oyster knifemaker in the country (maybe the world), and tried to make sense of their lineup. For some reason they don't bother to explain the differences between their knives on the web... maybe they assume oyster knife nuances are still common knowledge? Here's our stab at it:
1. Boston Pattern: long, narrow blade.

2. Galveston Pattern: long, wide blade.

3. Providence Pattern: shorter, wide, straight blade.

4. New Haven Pattern: short, wide blade with a tip that curves up.

The curve at the end of the New Haven, which is nearly impossible to see in the photo above, makes actually opening the oyster more difficult but does improve your ability to scrape the muscle off the shell. (That's not a very fair trade). We bought a bunch of these knives a while ago and were surprised to discover their curved blades (again, because there's no description other than the photo). They weren't a huge hit at HH headquarters but undoubtably they have a following somewhere. Maybe even a secret society at Yale. Who knows. 5. Chesapeake Picker: similar to a Boston in shape, except that there's a pronounced taper that begins halfway up the blade and continues to the tip. Warning: #5 is a complete fabrication To purchase one of the knives in the examples above visit Dexter Russel's online store. For more information about oyster knives visit this oyster site and for ideas on how to pick out the right knife for you visit our earlier attempt to wade through the knife muddle. This post reminds us of a concept called "negative information," or the idea that it's possible to acquire information that actually makes you know less. Anyone?